SKG E7 2-In-1 Vibration Heated Eye Massager
Save an extra $30 when you apply the coupon above.
Vibrating Eye Massage with Heating: 12 independent micro-vibration massage motors to massage around your eyes, deep into the oculi, and roll muscles to vibrate and relax the muscles. 104℉ constant temperature hot compress,5-second fast warm compress, quickly relieve eye fatigue.
12 Custom Massage Heads: Our heated eye massager has 2 adaptive temple massage heads retractable and rotatable, Telescopic adjustment of the left and right distance to fit the forehead; 4 hot compress Nano massage heads, and the hot compress area is upgraded by 46%, 5-second fast warm compress, quickly relieve eye fatigue; 6 silicone wave point massage heads, which precisely cover the acupoints around the eyes.
Bluetooth Customizable Music: SKG eye massager with heat Built-in speakers and prerecorded sound enhance relaxation. You can even connect via Bluetooth to play your own playlists. Music reduces your anxiety and the physical effects of stress, you definitely deserve it. Bluetooth Name: S1511HB
4 Customizable Massage Modes: Eye massager for migraines use the heat, vibration, and music functions combined in different modes to personalize your eye massage. You can even control the volume via the Bluetooth connection, 15Min eye massage is good to combat dry eyes, eye puffiness, and migraines at the end of a long work day.
Smart Design: SKG E7 eye massager using silver mirror blue color matching technologically cool appearance, 0.5lbs ultra-light, 45 dB ultra-quiet, 1500mAh large battery with 180 Min battery life, adjustable head strap, voice broadcast, etc. Humanized design, convenient for you and your family to use easily.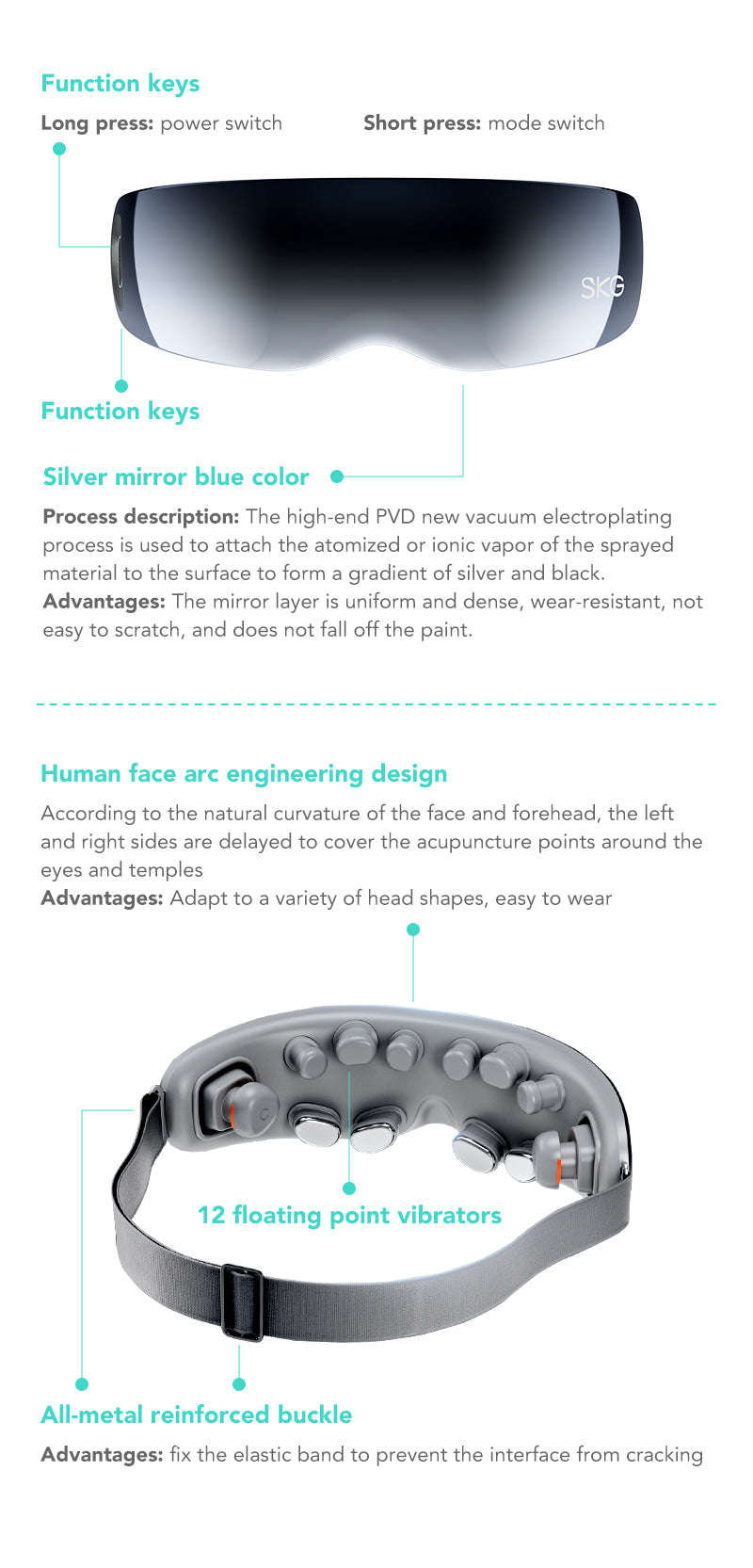 Material: PC+ABS
Color: Silver
Appearance process: PVD Gradient vacuum plating
Massage head: 8 liquid silicone point vibrating massage heads + 4 stainless steel EP electroplating hot compress point vibrating massage heads
Straps: High abrasion polyester, high elastic polyurethane blended elastic twill webbing
Charging interface: Type-C
Rated charging voltage: 5V
Rated input power: 5W
Battery capacity: 1500mAh/5.55Wh
Charging time: 2.5H
Duration: 18 times (Model active)
Models: 4
Heat compress: 104℉±35.6℉ (40°±2°)
Control: Button*1
Size: 8.66×4.02×2.68inches / 220×102×68mm
Net weight: 8.36ounce / 237g
Package: Massager*1, Type-C*1, Manual*1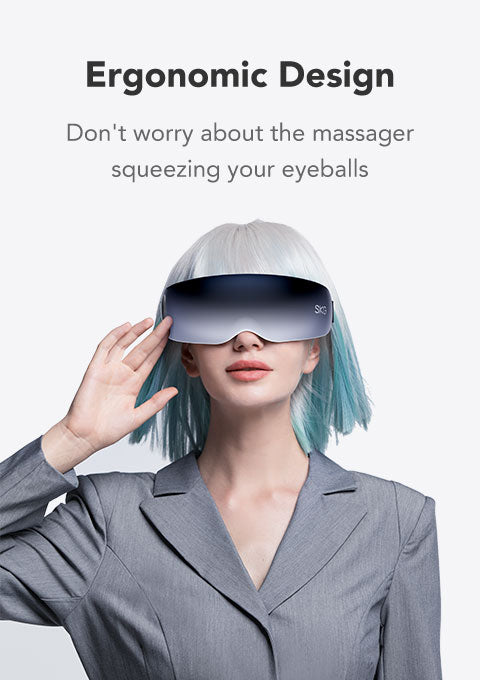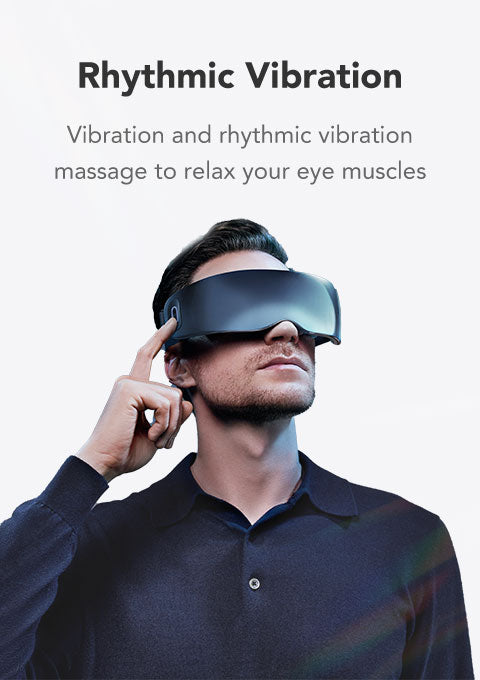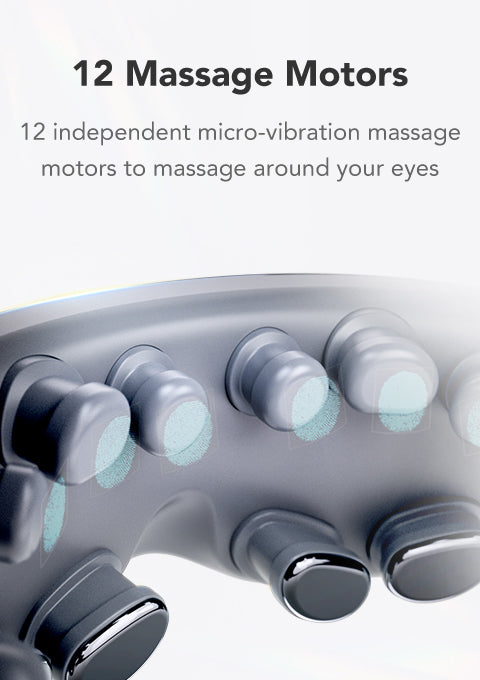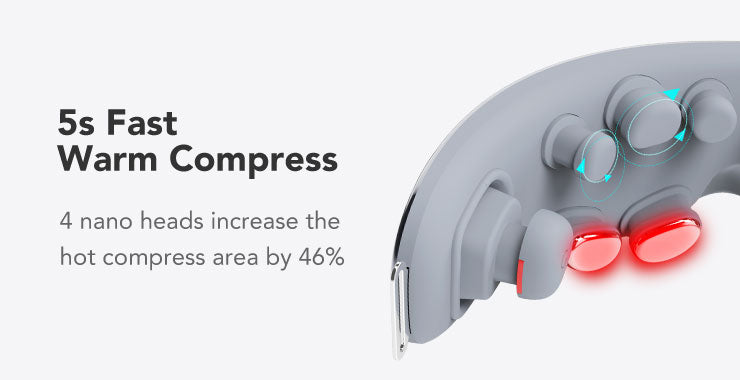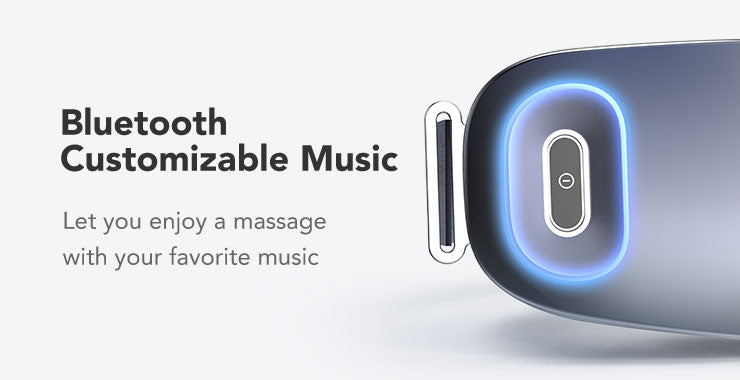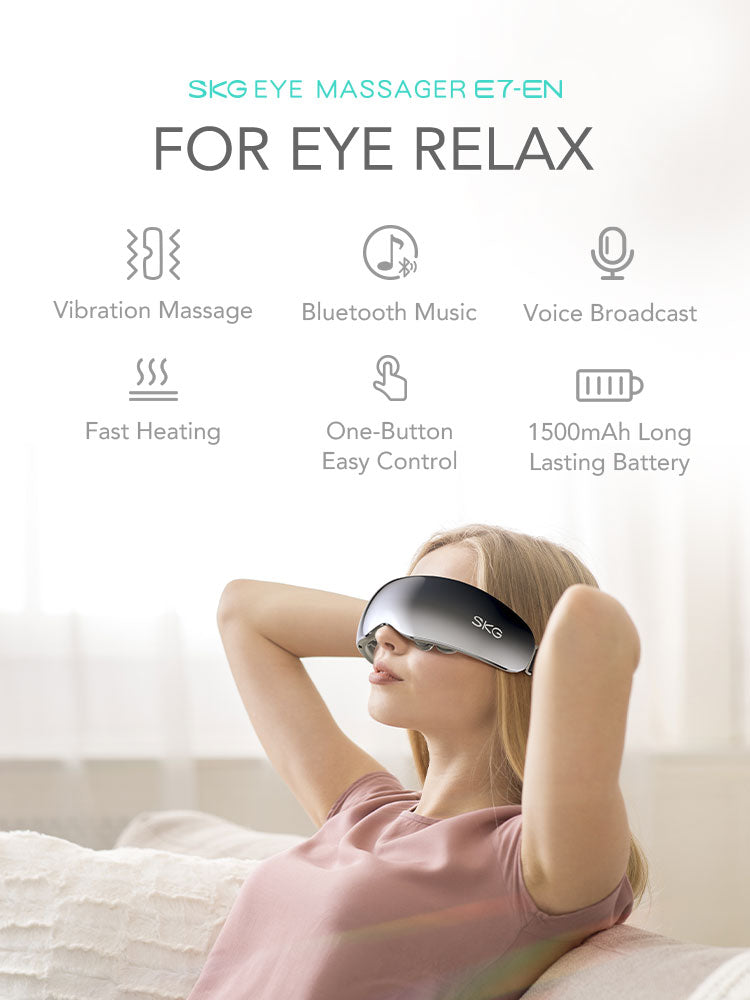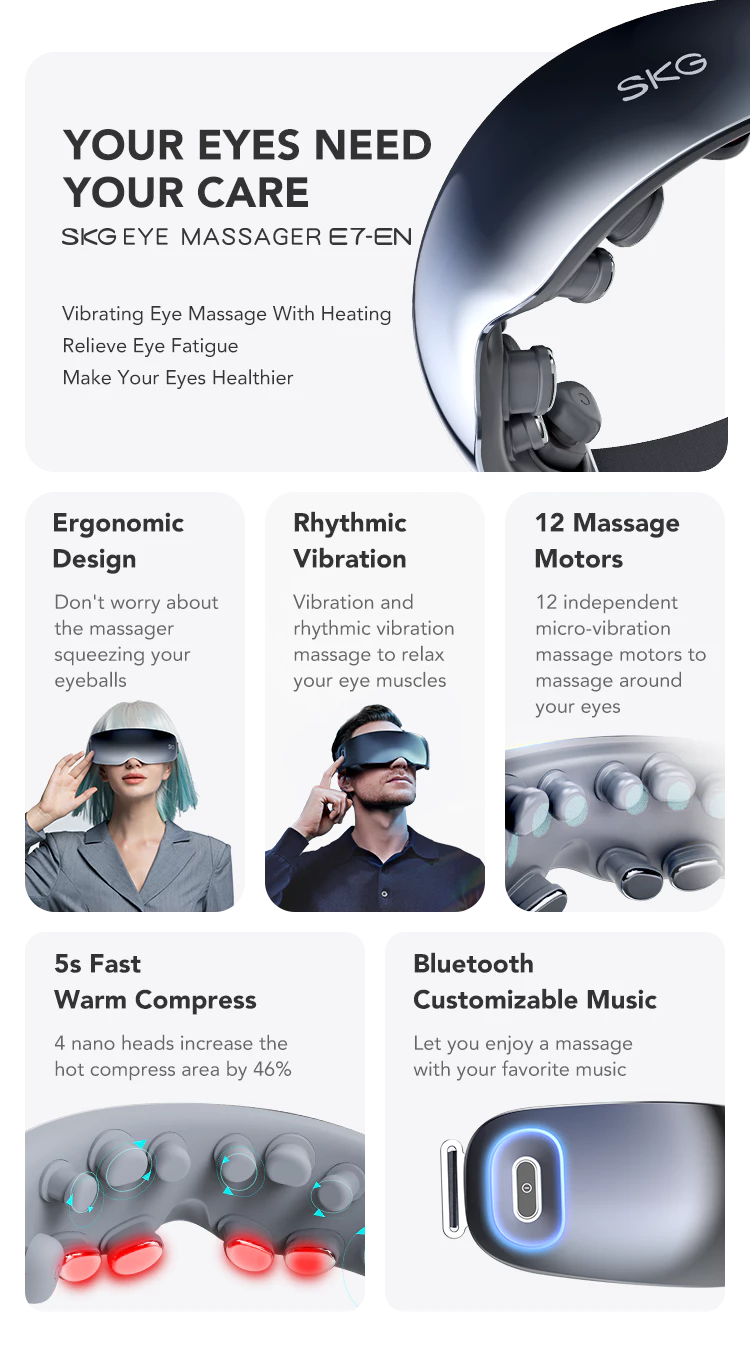 For Migraines, Dark Circles, Dry Eyes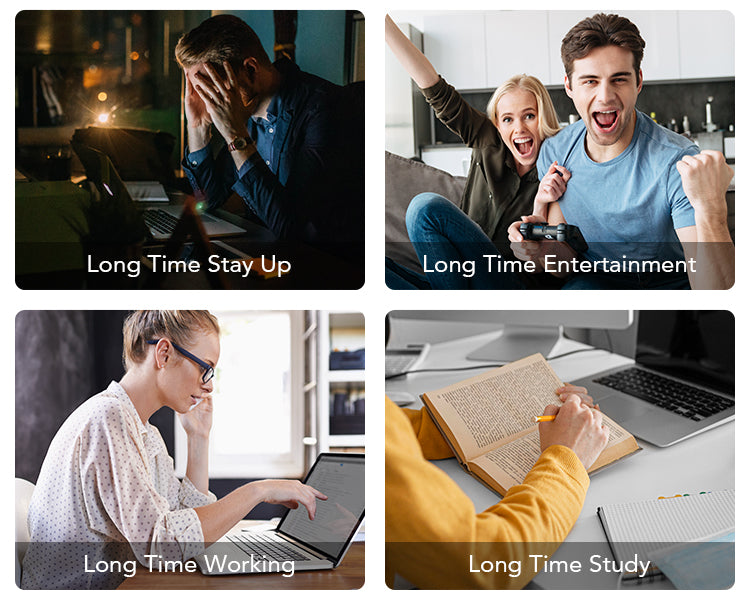 Why Do You Need Skg Eye Massage Machine?
Spending hours working in front of the computer or phone can cause fatigue for your eyes and mind. Fortunately, there are things you can do to reduce eye strain and relax your mind and body.
SKG's new eye massager can effectively reduce eye fatigue, relax eye muscles, improve sleep quality, reduce headaches and puffy eyes, etc.
And our eye vibration massager is suitable for many people: Adolescents who overuse mobile phones or tablets, which cause eye fatigue or myopia; office workers who use computers every day, elderly people with dry eyes, and people who are a stressed or exquisite lady who loves beauty.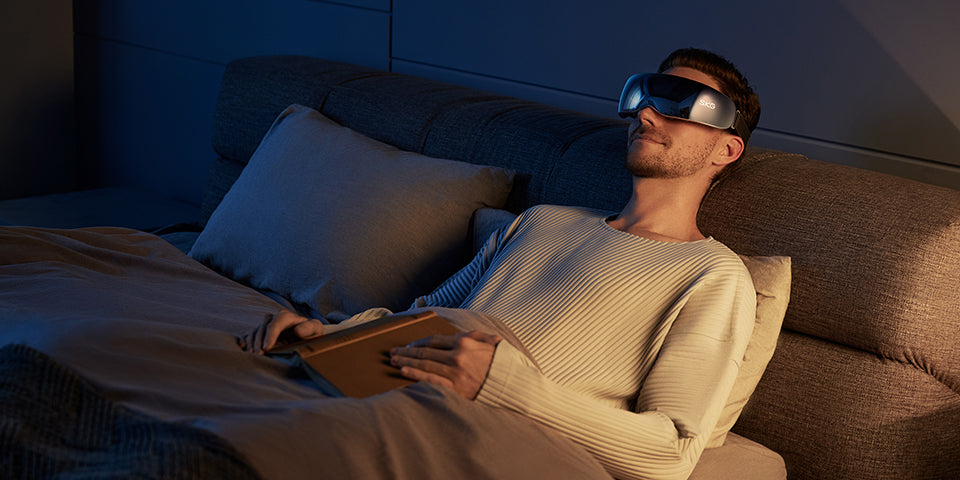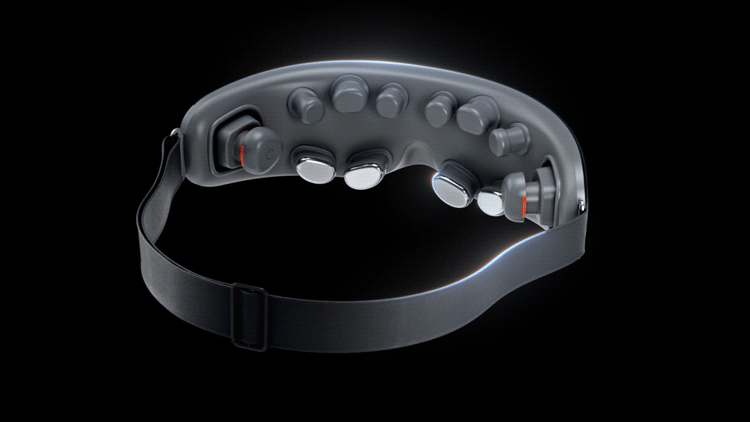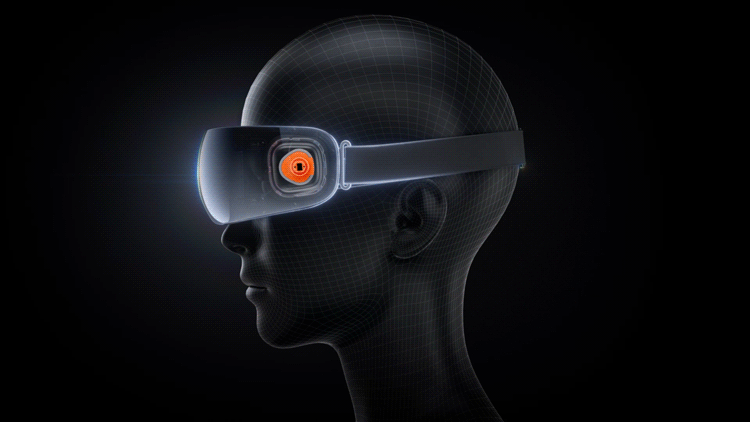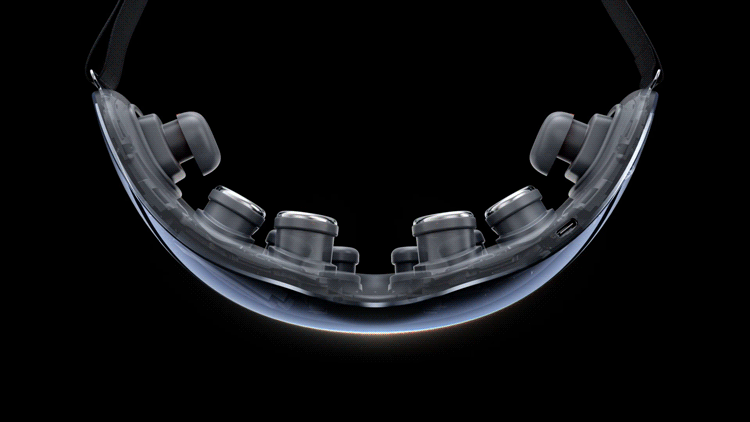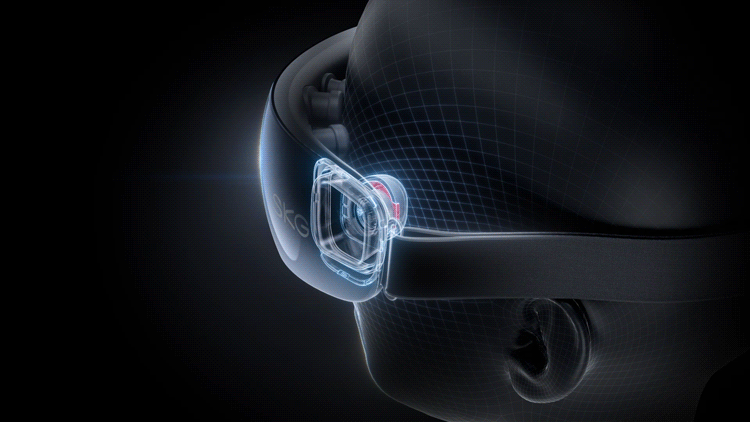 Vibration & 107.6℉ Heating
The eye massager uses heat and 12 motors to help achieve acupressure-like results. Acupressure vibration massage can effectively relax eye pain around the eyes, and improve sleep quality. Heat therapy improves blood circulation to reduce eye fatigue.
Bionic Liquid Silicone Massage Head
Skin-friendly and soft, such as delicate finger pulp kneading on the face.
Adaptive Temple Massage Heat
precise massage and better fit, telescopic adjustment of the amount width, rotation to adjust the position, suitable for more than 95% of head shapes.
Adjustable Head Strap
Adjustable head strap design, you can adjust the tightness to suit you, and the whole family can use the SKG eye massager together.
SKG VIBRATION ELECTRIC EYE MASSAGER
This stress relief equipment massager is designed with people of all ages in mind. The ergonomic and stylish eye and temple massager fits most face shapes, while the elastic band can be tightened and loosened through an adjustable buckle.
One Button Easy Operation
Power Button:
Long Press and hold to turn ON/OFF
Short press to adjust massage mode
150 Min Long Battery Life
Adopting a 1500mAh large-capacity-friendly battery, it's long-lasting and durable. A single charge of 2 hours lasts for 2.5 hours of usage.
Portable & Lightweight
SKG E7 eye massager with heat only weighs 0.5lbs, which is easy to carry and wear. When you take the subway to work, you can even enjoy eye relax on the way to work.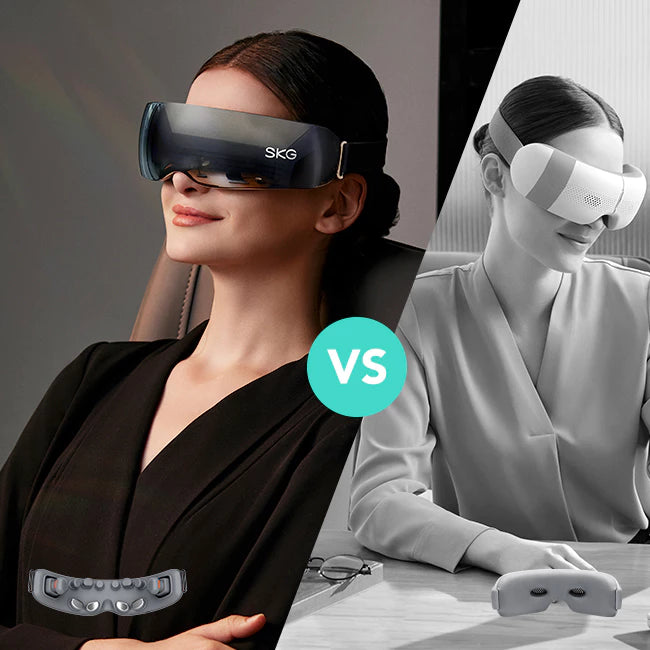 Vibration Or Air Compression?
SKG E7 Eye Massager
✅ Not squeezing the eyes
✅ Low noise
✅ Accelerate the absorption of eye cream
---
Air Compression
❌ Squeezing the eyeball
❌ Noisier
❌ Stain your makeup
More Features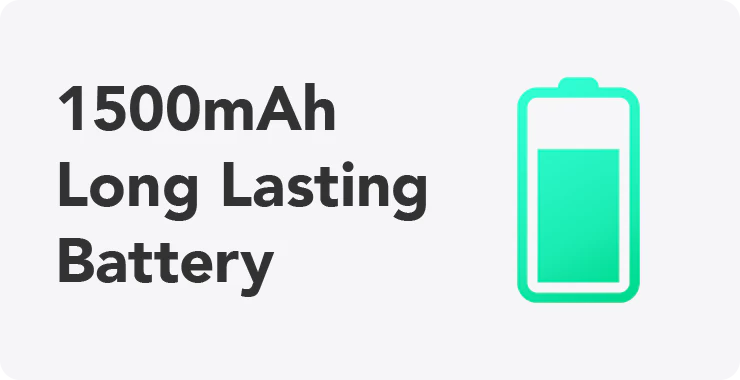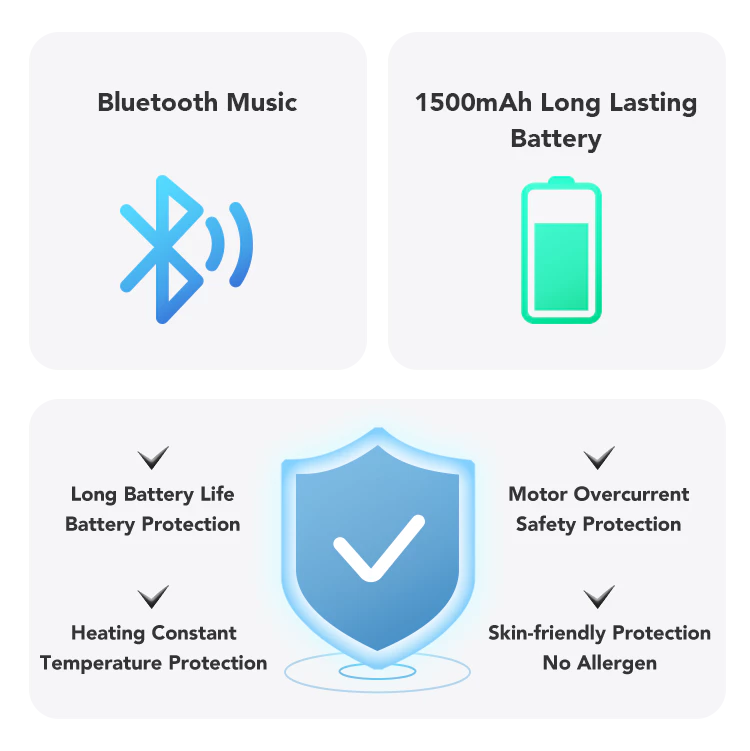 Frequently Asked Questions

How many functions does this neck massager have?

This neck massager has red light heating function, vibration massage function, pulse function, heating function, I have to say, it is really good.

This eye massager massage head is silicone?

This eye massager has 12 massage heads, including 8 silicone massage heads and 4 heat massage heads for eye heating, a great design.

Does it actually heat massage the eyelids directly or just the area around the eyes?

It's 4 heated massage heads to heat the eye area and relieve dark circles.

Can it be used after makeup?

Of course, it's use vibration massage head, which can speed up the absorption of the eye cream without smudging your makeup.

How can I turn off the music but still keeps massage?

There are two ways. One is that you can adjust the massage mode to sleep mode, it will have only massage without music; the second is that you can use Bluetooth to link your mobile phone, and then adjust the volume to the lowest, you can also enjoy silent massage.

What kind of charger does this work with?

This eye massager is easy to charge with a Type-C cable (included) and a DC 5V mobile charger (not included).

Can the massage intensity be adjusted?

There are 4 vibration modes with different strengths, you can choose the appropriate strength according to your needs.